I'm really thrilled to have had my proposal for 2015's Kaipara Coast Sculpture Gardens accepted. The work will be available to view throughout the year.
The Kaipara Coast Sculpture Gardens/Plant Centre/Cafe are a great place to visit with tons of amazing plants and gifts to buy, beautiful gardens to meander around for a good hour or more (featuring sculptural pieces by some of New Zealand's premier 3D artists), an interactive children's playground, good food, not to mention some quirky toilet facilities… I definitely recommend a visit.
(Top image shows one of my early experimental mock-ups set within the space. Below are some final installation shots).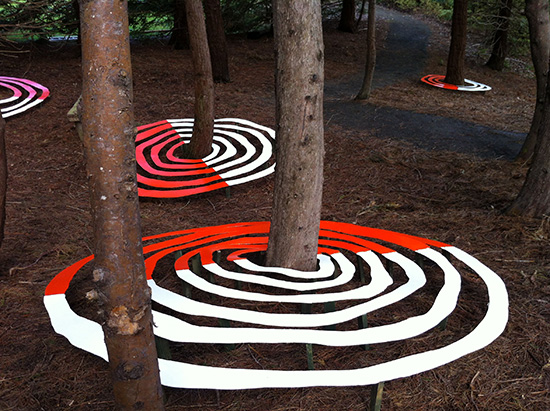 My site-specific installation is a large-scale 'drawing' documenting the land as well as the flora upon it. It is made up of several components which, from a distance, create a series of playfully abstract linear patterns following the contours of the space (both horizontally and vertically). Through a repetitive build-up of ever-increasing shapes (much like ripples on a pond or age-lines within a tree trunk), the lines create an optical illusion which distorts the space and perspective for the viewer. Trace references surveying, mapping, documentation, marking of territories, and early New Zealand colonisation of the Kaipara Coast area. On a more simplistic level, the work plays with repetition, line and pattern, challenging the perspective and creating visual rhythm.
The orange and white colours were initially chosen to visually stand out against the wooded area and tree trunks that the works are set against (so that they could be easily viewed from a distance as walkers approach). The bright orange is also the colour of the tape that DOC workers and hunters use to mark their trails, thus it has connections to the New Zealand bush and the positive and negative impact of peoples upon it. The colours also purposefully reference building sites, safety hazards, danger signs, and urban development.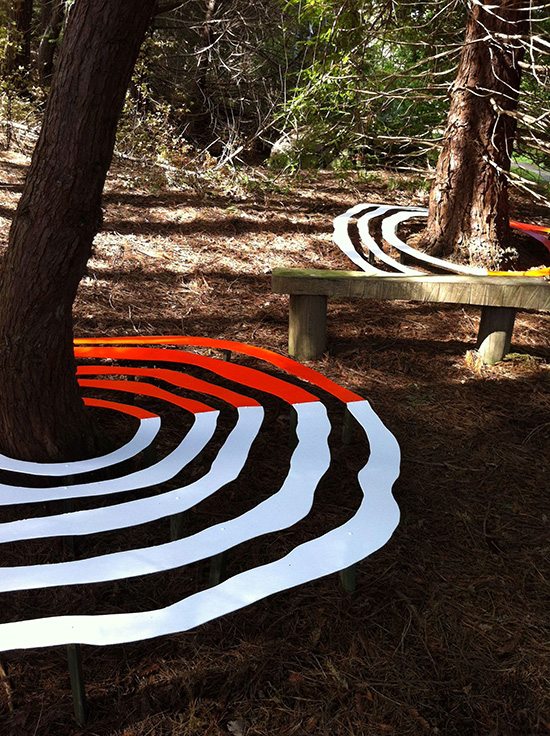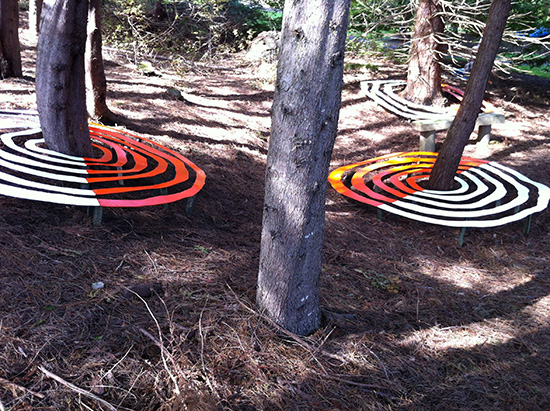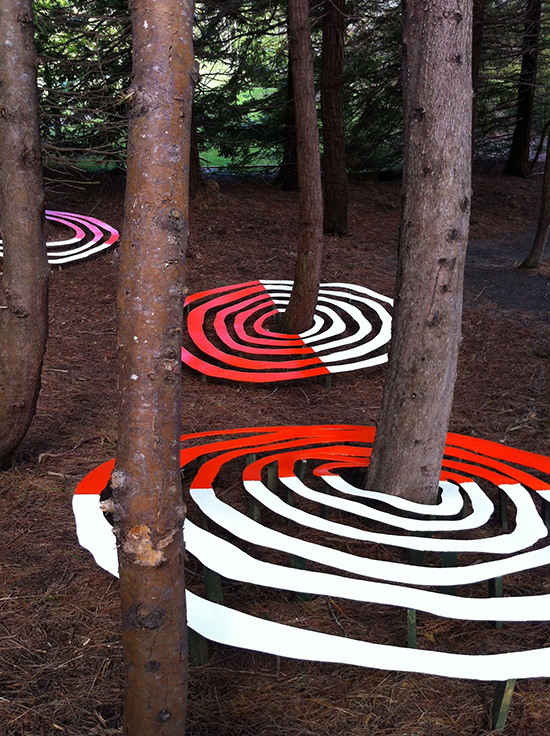 Below are a couple of installation shots (what a mammoth task!). The entire project consists of 66 individual pieces which, when joined together, make a range of circular shapes of varying sizes (from approx. 20cm diameter up to nearly 6metres diameter!). In total ten trees are "ringed". Each piece was hand-drawn, cut to shape, sanded, sealed, and painted several times. As well as months of me planning and creating experimental mock ups, three weeks' worth of me and hubby building and painting the final design, the resolved work took seven of us nearly six hours to get into position in the space. Definitely the biggest project I have undertaken so far…